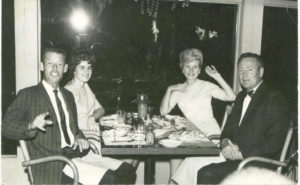 As busy adults, nothing is more comforting than to know your parents are strong, vital, and running their lives on their own, living out their retirement dreams. It's easy to believe they are okay because that's what we want to believe. They are keeping themselves clean, fed, and housed. They have friends, social connections, pride in their surroundings, and happily recount their stories to you during your weekly phone call. They drive, they fly, they cruise… and then suddenly, they don't.  There are no new stories, only repeated old ones. We notice weight loss, cognitive decline, inactivity, depression. We tell ourselves they are in a slump, maybe they have  a bad cold, or, heaven forbid, pneumonia. Because, of course, they'll snap out of it, right? But what if they don't?

How do we know if our parents are failing to thrive? When do we step in? How far? You've spent a lifetime respecting their opinions, listening to their advice (even if you didn't take it), and expecting them to take care of themselves, because that's what they've always done and been pretty damn good at it. But what if all that stops? You could be looking at the onset of cognitive decline. How can you tell? People with dementia are good at hiding the truth, especially if they have money to pay for services that if not performed, would otherwise give them away (the landscape is maintained, the house is cleaned, the bills are on auto pay). If you don't live in the same town, it may be hard to tell what's really going on, and your parent doesn't want to worry you with the details.
If you are that perfect child, more aware than me, more present, more connected, more able to read the signs, a better daughter (yes, I'm still beating myself up), you saw it coming in time to head off the inevitable "implosion." You took steps to ensure the quality of your parent's life the way they did for you when you were a child. I bow to your strength and conviction, presence of mind, and absence of denial.
The truth is, most of us are not that perfect child. By the time our parents hit their 70s and 80s, we have kids (and grand kids) of our own. Maybe, for the first time in our lives, we are retired from a career, and once again responsible only for ourselves.  Hooray!  Free at last! My parents don't need me. They're doing just fine. (Maybe they are. Lucky for you.)
Or maybe your parent wasn't the one you went to for advice. Maybe they gave you your deepest wounds. Maybe they should never have become parents at all, or maybe when you see your mom struggle, memories steeped in abandonment or neglect render you paralyzed. Yet here you are, aching for her suffering, because, dammit, she's your mother and your bond was sealed in her womb.
Then comes the unexpected call from a hospital social worker, and you life changes forever. Mom (or dad) can't go home alone.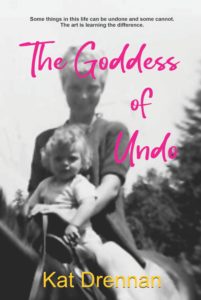 I wrote the Goddess of Undo two years after my mother's death because the triple loss of her (first as a child, next to dementia, and finally to ash) was so devastating I could hardly speak, let alone write about the experience. In the end, I had to fictionalize the story because the truth was too painful and too personal to experience over and over the way you must do as an author to write the best book you can. So, Betty, her daughter, Evie, and their stories are very close to our story, but also a composite of others I have met while researching this book, which allowed me the distance I needed to navigate the creation of their emotional journey.
When I first released the book, I opted for a generic cover I thought would appeal to a wide audience of women. And, the book has done well, winning awards and five-star reviews. In the years since it was published, I've developed thicker skin and a stronger backbone. The cover for re-release has been updated with an actual, personal photo of my mother and I—the only photo I have that gives me a sense that once, we belonged to each other. It might not be what a traditional publisher would recommend, but it is authentic and truly represents that thing we all long for from our mothers, even if they are incapable of reciprocating.
If you or someone you know is experiencing the decline of a parent, it is important to know 1) they are still in there, somewhere, 2) they are still your parent, and 3) they need you more than you know.
The Goddess of Undo is available in paperback and on Kindle and Kindle Unlimited.