One of a Kind is LIVE on Amazon Kindle and Paperback!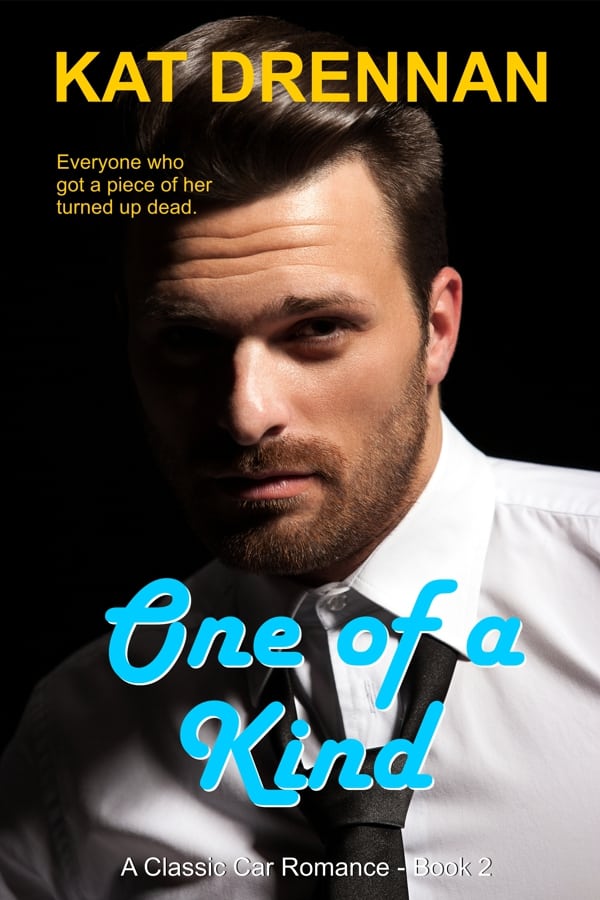 Whoever gets a piece of her ends up dead.
A Classic Car Romance series continues with Luke and Gina's story.
HER baby clock is ticking, HIS career is on the line—Gina's 1953 Corvette is a racey distraction, but how long can she rev her engine on the starting Line before she runs out of gas?
Assistant DA Luke Berlin has his sights on the election—a life-long goal that needs his full attention. But for 30 year old caregiver-to-the-rich -and-famous, Gina McBain, seven years is too long to wait for her happy ever after.  She's determined to enforce her now-or-never rule, until her friends start showing up in the Santa Barbara morgue.
Inspiration for One of a Kind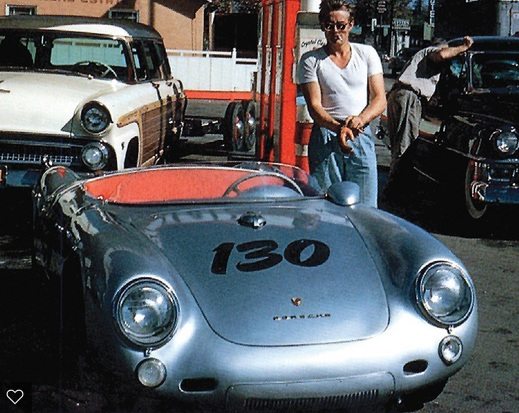 Some stories never die. The second in this series,  One of a Kind, was inspired by Hollywood myths surrounding James Dean's "death car",  The Little Bastard, a sexy 1955  Porsche Spyder.
EXCERPT:
NOTE: ADULT LANGUAGE, GRAPHIC
Prologue: December, 1995
A loud, arcing boom brings him right out of sleep. Lights flicker and the television screen goes dark.
Just his luck, the night he picks to call on an old friend in his fancy house, the power goes out. It's the first real sleep he's had since getting out of a frickin' cell. Now he's wide awake.
He listens. No sound from upstairs. He isn't surprised. They'd drunk enough scotch this evening to float a battleship. Fine scotch too. Best he's ever had. But that's his host. Always the best of everything.
He slips on his pea coat and goes outside, because, for the first time in six months, he can. The rain has given up for the moment, heavy clouds have lifted just enough to see lights twinkle in the distance. There is no way of telling if the outage has affected any neighbors. There are no neighbors within screaming distance.
He fishes a flashlight out from under the driver's seat of his old mini truck, and thumbs the switch, hopefully. Hallelujah. A bright beam makes everything outside its narrow cone disappear.
He exhales, the hairs on the back of his neck raise; a physical sign he's learned to heed.
He whirls around.
Nothing.
Okay.
Okay.
His pupils stretch wide, adjusting to the night.
And then he hears it, a low moan. A cat, maybe, encountering a rival? No. The sound is darker, more primal. Like an animal injured on the road.
Or a human.
He eases forward, stopping just before the curve leading away from the mansion to glance over his shoulder. On the crest of the hill the big house squats like a pale, square face. Its dark portico, a gaping mouth, reminds him of that painting The Scream. He squeezes his eyes shut against a visceral memory: viscous rivers of red edging the tiles on their bathroom floor, his mother's eyes staring at the ceiling.
Another moan, louder this time, drags him out of his past, one foot in front of the other, down the long driveway, until his light shines on the source of the noise.
A white Corvette, run up against the light pole across the road, the engine idling out of gear.
Lightning freezes a glimpse of the crash in movie-screen brilliance. His heart slams into his chest. His blood surges.
Jesus. There is a God after all.
Not just any old Corvette.
His.
One of a Kind is LIVE now on Amazon Kindle and paperback. Get it now.