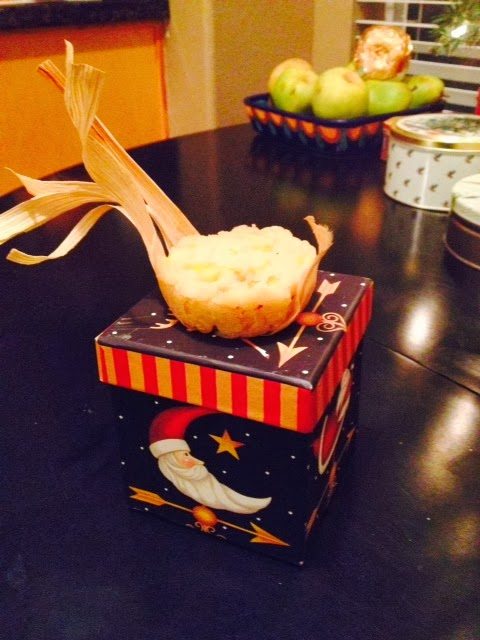 I had the fortune to befriend a lovely Latina nurse early in December while Freddie was in the hospital for neck surgery.  (He's doing great, thank you and fast on the mend.) One of the things I and the nurse had in common, other than familiarity with my husbands privates (poor baby had to have a catheter) was our love of Christmas Tamales.
I admitted to totally trashing my kitchen the last time I attempted these. I don't admit to a lot of things, but one of them is I'm a blond-haired, blue eyed, Native Californian Gringa Mex devotee. I never miss the chance to learn from a master when it comes to Mexican cooking.  Few visitors to my Ojai kitchen dispute the fact that my Gringa Mex fish tacos the best anywhere. If you know me then you know my philosophy of cooking is that there is no food on earth that can't be improved by the addition of a little heat (of the chili variety).  Puts endorphins in your brain and a smile on your face. I'm definitely going to add these tamale birds to Pilar's catering menu in Borrego Moon. (Yes, still working on it.)
But home made tamales–the masa, the lard, the corn husks, the pasting, the filling the folding, the steaming…the pure hands-on time consuming task of making tamales and the fact that my family and all their little helping hands live far, far away, making tamales is more of a fantasy dream of mine than the reality.  Even my part Latina sister-in-law gets her Christmas tamales from someone else's kitchen.
So while waiting for my husband to make a last valiant effort to go on his own before the insertion of the dreaded pee pee tube, Nurse Catheter shared with me her Christmas Tamale secret:  Forget the lard, the corn husks and the steaming and just bake the darn things in muffin cups.
Hello?  Ding, ding, ding, ding, ding.   Fresh, delicious, plentiful, hot, mouthwatering Christmas Tamales without the huge, time-gobbling mess?  I'm so there.  I'm  Livin' La Vida Loca.  Did I make them?  Damn skippin' I did, and here's the result: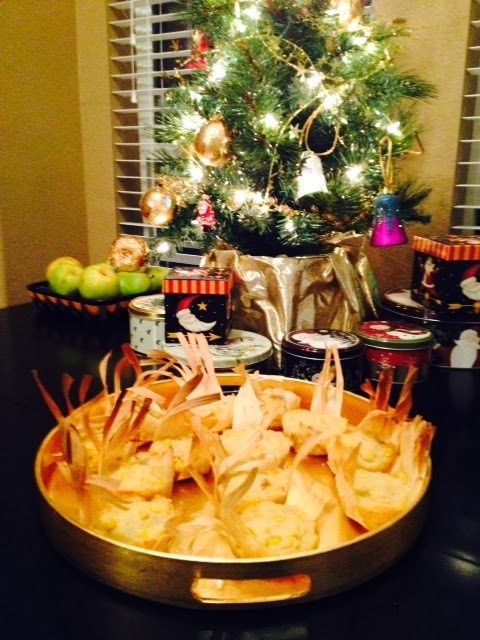 Okay, yes.  I added the corn husk back in (along with a bit more hands on), but hey, that's me, and it made it easy to lift the golden treasures out of the muffin cups intact.  Add a dollop of Martha Stewart's fresh tomatillo salsa (you can't get any more Gringa than that) and you've got a plate full of what I call "Vanishing Christmas Tamale Birds."
You can use any masa and filling you love.  Mine were made with Fresh and Dried Corn Tamale* masa dough and carnitas filling (I used a slow cooker to prepare the meat the day before assembly).
These take about ten minutes to assemble each muffin tray of 18 and 20 minutes in the oven.
WARNING: It is a good idea to double the recipe!  I took two dozen of these to a party and when they disappeared almost instantly, the mob came after me.
The method and recipes follow.  Enjoy and Feliz Navidad!
Ingredients:
1 package dried corn husks, soaked in water for about a hour
3 lbs pork tri tip or other fatty cut
1 7-oz. can of Herdez (or other brand) salsa verde.
1 small white onion, chopped.
1-1/2 cups masa harina (you can get Masa Seca at most grocery stores)
3/4 tsp salt
1 tsp sugar
1/2 tsp baking powder
1/4 cup unsalted butter, softened
1/4 cup vegetable shortening
Cooking spray
1/8 cup vegetable or olive oil (for pressure cooker method only)
1 cup warm water
1/4 cup water (for pressure cooker method only)
1 cup fresh corn kernels, including corn germ and milk (You can substitute canned corn and a bit of the juice)
Fresh Tomatillo Salsa**
Carnitas Meat Filling:
Make it up the day before in a slow cooker, or use a pressure cooker for same day assembly. There is no need to add water as the juices and fat in the meat are all you need.
Slow Cooker
Place the meat in the slow cooker, add the can of Salsa Verde and onions, heat on High for the first couple of hours, then turn to low for the remainder.  Cook until tender and easily shredded (about 6 hours).
Pressure Cooker
Heat cooker, add a tbs oil. Brown meat on all sides, mix salsa verde and 1/8 cup water and pour over meat. Sprinkle onions on top.  Seal on lid. Heat until steam escapes lid, then place the rocker on the vent pipe and cook at a gentle rock for 45 minutes. Turn of heat and let steamer indicator return to down position before opening.
Fresh Corn and Dried Corn Masa Dough*:
Place the masa harina, salt, sugar and baking power in the bowl of an electric mixer fitted with a paddle attachment.  Add the melted butter and shortening and beat for about 3 minutes until the batter breaks up into fine pieces. Add the water and beat for about 2 more minutes.  Be sure to scrape down the sides of the bowl a few times to make sure it's all mixed in. Add the corn and beat another minute until the masa sticks to the paddle more than to the sides. Turn the dough out onto plastic wrap and wrap.  Let it stand about 30 minutes or longer to fully absorb the wet ingredients.
Assembly:
This is the fun part. Pre heat oven to 400 deg. Tear corn husks into thin strips and tear the wide ends into strips.  Make enough for the size batch you need.  They should still be a little wet prior to baking to keep them from burning.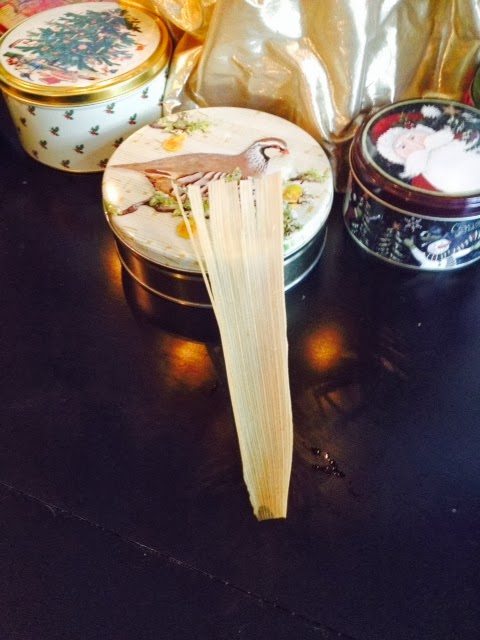 Spray muffin pans with cooking spray. Place one corn husk strip into a cup, leaving about an inch of the husk sticking out on one side and the rest on the other.  Pat about 2 tbs of dough into cup, spreading up sides.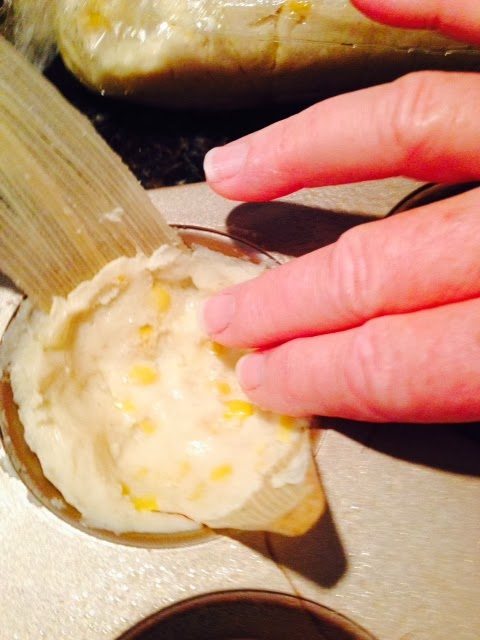 Once all cups are filled, squeeze out excess juice from a dollop of carnitas (about a tbs), and place in each cup.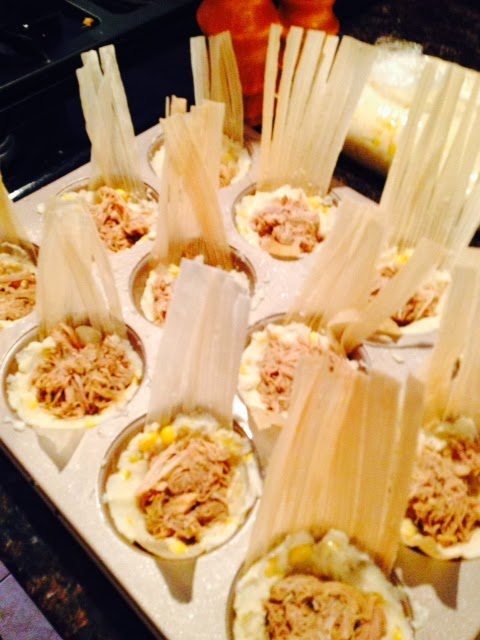 Top each cup with a layer of dough, making sure to seal with the dough already in the cup.
Bake at 400 deg for 20 minutes.  Lift out using the "head and tail" of the birds and place on cooling rack.  You can make these ahead and reheat before serving.
Fresh tomatillo salsa is a wonderful counterpoint to these tamales, adding sweet crunch and heat, but you can use any you love.  I used **Martha Stewart's Fresh Tomatillo Salsa which can be found on her website at www.marthastewart.com/316989/fresh–tomatillo–salsa.
*This masa recipe is a variation of Mark Miller's Fresh and Dried Corn Tamale Masa Dough recipe, from Tamales, (c) 1997, Macmillan, New York, NY, p. 3